Windows 11 users will be able to run Android apps using Microsoft's own tricks without cooperation with Google.
During the launch of Windows 11, Microsoft surprisingly said that Android apps will be able to run on its new operating system. Android apps will run natively on Windows 11 and can be downloaded from the Amazon appstore, through the new Windows Store included in the operating system.
Run the TikTok app right on Windows 11.
Microsoft says it is using the Amazon appstore to bring Android apps to Windows 11. Apps will be listed in the new Windows Store and can be pinned to the taskbar or attached to traditional Windows apps. Microsoft is also working with Intel to use Intel Bridge technology to make this a reality, though Android apps can still work even on systems with AMD or Arm chips.
Android apps on Windows 11 are Microsoft's obvious answer to what Apple has done recently by allowing iOS apps to run on macOS. While there are many web apps that are equivalent to mobile apps, they are often lackluster, and certain apps like Snapchat, Ring, Venmo, Roomba, and the majority of home automation apps are not available on the web.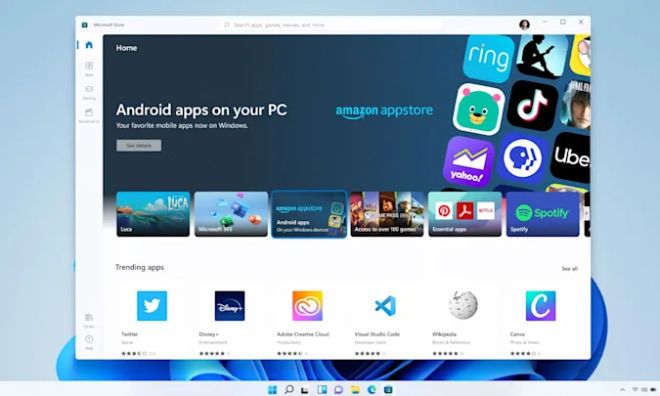 The Amazon appstore is part of helping bring Android apps to Windows 11.
As an example of this possibility, Microsoft demonstrated apps like TikTok that run on Windows 11. The Windows Store that Microsoft showed off also lists Ring, Yahoo, Uber and more. It's unclear how many current devices will support Android apps with Windows 11 as Microsoft is currently pushing to support Intel Bridge technology to run these apps.
This surprise announcement comes after a long time since Microsoft allowed Windows developers to redesign their existing Android apps for Windows in 2015. Project Astoria is a method created by Microsoft to try to convince developers to switch apps and make it easier. This plan ultimately fell through less than a year after Microsoft admitted that having "two bridge technologies to bring code from a mobile operating system to Windows was unnecessary."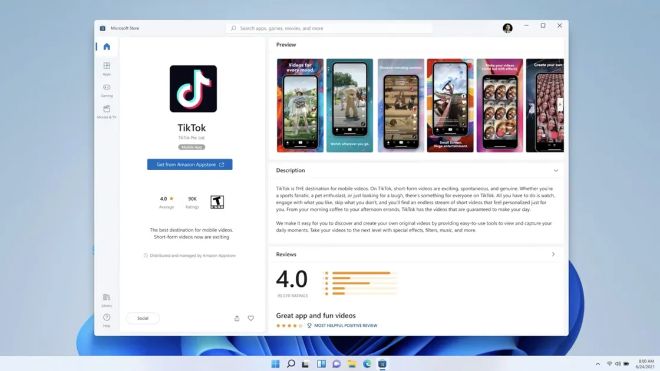 Many Android apps are available for download from the Windows Store.
Microsoft has been challenging the idea of running Android apps on Windows for years, and the company experimented with the idea of listing Android apps in the Windows Store just before Windows 10 launched. However, the company later tried to convince developers to adopt the Windows Universal platform, but continued to fail.
Integrating Android apps directly into Windows is a significant change, especially as Microsoft created Your Phone as a method to bridge the gap between Android and Windows, however these apps will now run directly in Windows 11.