With an expected price of 449 EURO, this is a relatively cheap laptop in the detachable touch screen laptop market.
The IdeaPad Duet 3i is a versatile and portable device that can switch between laptop and tablet modes and take notes with a stylus. The ability to separate the screen from the keyboard allows users to work in a smaller space with a touch screen option.
Lenovo IdeaPad Duet 3i.
This 11.5-inch model features a 2K touch screen with 100% DCI-P3, 400 nits brightness. Upgraded 5MP front camera and 8MP rear webcam, powered by Dolby Audio. In addition, the optional Lenovo Digital Pen of this generation of computers will help take notes during meetings or lessons.
According to Lenovo's announcement, the IdeaPad Duet 3i has a battery life of up to 8.5 hours. Thanks to Rapid Charge Boost technology, it allows an additional 2 hours of use after a short 15-minute charge.
IdeaPad Duet 3i will be sold on the market from June 2023 with an expected price of 449 EURO (about 11.3 million VND).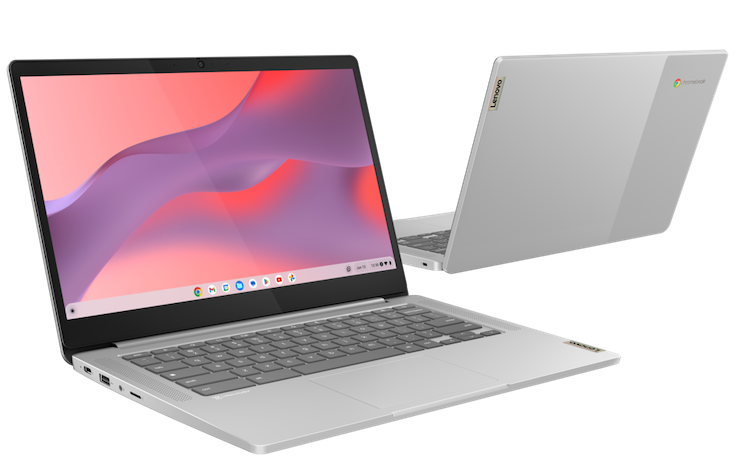 Lenovo IdeaPad Slim 3 Chromebook.
On this occasion, Lenovo also introduced the next generation IdeaPad Slim 3 Chromebook with MediaTek Kompanio 500 series processor. This 14-inch laptop has a Full HD IPS touch screen, weighs 1.3kg, and has a battery life of up to 13.5 hours.
Compared to previous generations, this Chromebook 3 series is packed with many other upgraded features in addition to brighter 100% sRGB screen options. For example, front-facing speakers tuned by Waves MaxxAudio, a fully functional Type-C port, optional Full HD webcam with physical camera cover, and a dedicated built-in mute key.
IdeaPad Slim 3 Chromebook will be on sale from May 2023 with an expected price of 349 EURO (about 8.8 million VND).