Windows 11 is an operating system update that is not as exciting as what people expect, but there are still features that people should not ignore.
New Design and Start Menu
The new design of Windows 11 isn't a drastic overhaul but there are a bunch of changes that those upgrading from Windows 10 will notice. Many of the new design features were brought back from Windows 10X, Microsoft's project to optimize Windows 10 for dual-screen devices, but has now been canceled.
The new-style Start Menu system is very reminiscent of macOS.
Since most of Windows users' time is spent on apps, the most notable change to the Windows 11 UI is the new Start Menu. The first thing users notice is that the Live Tiles are now gone. The new Start Menu in Windows 11 basically looks like a smartphone operating system launcher with an additional section of recent documentation. Specifically, users will see apps at the top, while recent documents and a dedicated search bar are located below them.
Performance improvements and optimizations
Microsoft has promised some serious performance improvements in Windows 11 thanks to a series of optimizations as well as a host of new technologies. Among the new technologies that will help boost performance is DirectStorage – which is now available on Xbox Series X and Xbox Series S. Users will need one of the latest NVMe SSDs to take advantage of this particular feature, however it will lead to a significant reduction in load times on Windows 11.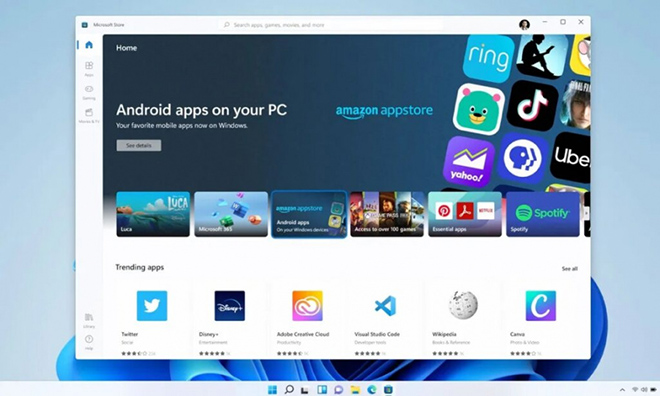 It is already possible to run Android apps on Windows 11 computers.
Android Apps on Windows 11
Now users can now run Android apps on their Windows 11 computers. This is a huge addition to Windows, especially when users consider Android app support to be one of Chrome OS's main attractions. Intel Bridge technology will enable Android app support in Windows 11, and Microsoft has also worked with Amazon to make this new addition. Microsoft says it will share more information about Android app support on Windows 11 "in the coming months."
New Microsoft Store
Microsoft has announced a brand new Microsoft Store for Windows 11. Interestingly, Microsoft won't charge sales fees on apps if they use a third-party billing system. Note that this will not apply to games.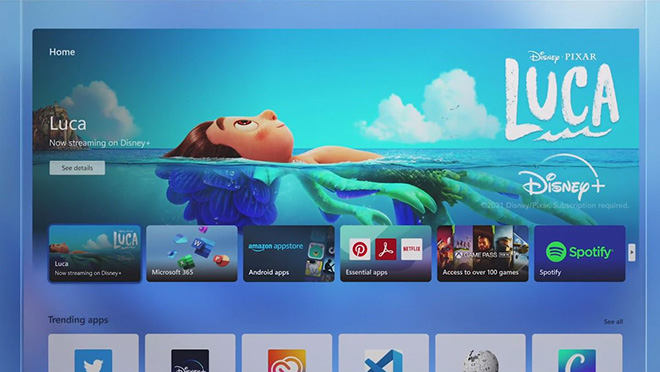 Windows 11 brings a new Microsoft Store experience.
Available free of charge
This may be the most interesting thing about the Windows 11 update. Specifically, Windows 10 users will be allowed to upgrade to the new operating system for free as long as the system meets the minimum requirements of Windows 11.