Packed with smart features not found in any other product, the Voyager is a device worth owning by gamers, streamers and creators.
Corsair is known for manufacturing components for desktop computers (PCs), gaming accessories and devices for streamers. In addition, the company has also launched a line of PCs dedicated to gaming.
But gaming laptops are a whole new concept for the company. The Corsair Voyager a1600 is the company's first gaming laptop, and it's essentially the combination of all of the company's product portfolios into one device, from the RAM or SSDs of the components business, as well as the components business. Wireless technology from gaming keyboards, mice and headsets all appear in the Voyager a1600.
Corsair's first all-in-one gaming laptop, the Voyager a1600.
Impressive hardware
Although the same product line, but Corsair has divided Voyager a1600 into many different configuration levels depending on the user's needs.
With a starting price of $2,699, the device will be treated with an AMD Ryzen 7 6800HS CPU, AMD Radeon 6800M graphics, 16GB of DDR5 RAM, and a 1TB NVMe SSD. The laptop will run on Windows 11 Home.
For $2,999, it's equipped with a Ryzen 9 6900HS CPU, RAM and SSD that's more than twice the capacity of the base model above. The device will run on Windows 11 Pro if the user spends an additional $50, applicable to both configuration levels.
However, the configuration levels don't stop there. Origin PC, a custom PC maker owned by Corsair, also sells the Voyager a1600. When buying a device from Origin PC, users can change the configuration to their liking with up to 64GB of RAM, add 1-2 SSDs depending on capacity and even choose to decorate the appearance with 11 models of cases.
When tested with heavy games, the Voyager a1600 fully met AMD's performance requirements. When handling games, the discrete graphics card was immediately put into action, pushing frame rates to more than 100FPS in Guardians of the Galaxy and Shadow of the Tomb Raider with high settings at 1440p. Also with CS:GO, the device can go up to 280FPS, and according to Corsair, this takes full advantage of the display's 240Hz refresh rate.
Voyager a1600 is good for all game genres with "heavy" graphics quality.
In a state of low load and fans operating at full capacity, Voyager still maintains "coolness" in the left and right areas of the device, keeping gamers' hands comfortable while playing games. However, the fan will be quite loud, but this is evident with gaming laptops with thin and powerful designs, only 19.8mm thick and weighing 2.4kg.
Possessing a large capacity of 99Wh battery that lasts 5 hours. Although it comes with a 230W power adapter for gaming and charging, the Voyager can still be charged via the USB-C port with the 100W adapter.
In terms of visibility, all configurations come with a 16-inch 240Hz, 2,560x1,600-pixel IPS display. The screen has parameters aimed at gamers who often "fight" heavy games, high refresh rate for smooth graphics and easier target tracking with 1440p.
For users who need a wide color gamut coverage to perform photo and video editing, consider Voyager's display with only 75% Adobe RGB and DCI-P3, 69% NTSC and 97% sRGB and brightness. measured at 359 nits.
Voyager's large 16:10 aspect ratio, 240Hz refresh rate.
The combination of the large 16:10 screen and the fancy tall hinge give the body a distinctive look, but it's a bit difficult to slip into a backpack when it needs to be moved. Beneath the gap between the screen and the body is the S-Key Macro bar, which is a strip of 10 colorful and programmable macro keys, and between them is a small color display that helps with macro features.
The S-Key Macro Bar works with the built-in Elgato software suite, allowing for the creation of drag-and-drop programmable macro keys that simplify everything from using OBS streaming software to opening apps or pages web to play sound effects or activate a voice changer.
The interesting point of this small screen design is that when the device is closed, it is still exposed, from which users can still use the buttons on the secondary screen when connecting the laptop to external monitors.
Marco S-Key Bar with functional programming capabilities.
For the keyboard, Corsair used ultra-thin Cherry MX mechanical switches, which provide good tactile feedback for typing and gaming. Although the keys have a click, this noise is not loud. The keyboard features per-key RGB lighting, fully programmable using Corsair's iCue software.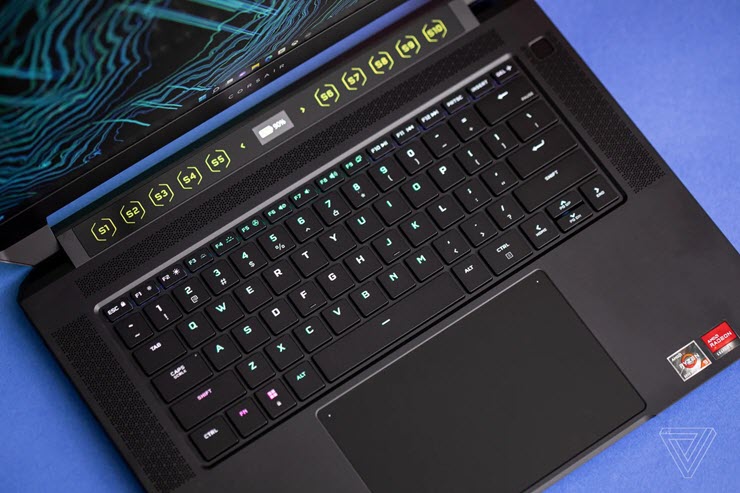 The mechanical keyboard uses ultra-thin Cherry MX switches and RGB lights.
Powerful built-in software
All the great hardware packed into Voyager would be nearly impossible without some specialized software included, called Elgato Stream Deck.
AMD Radeon Software: Adrenalin Edition, for example, offers several options for getting the most out of the CPU and graphics (both integrated and discrete). When AMD SmartShift Max is enabled, the device automatically balances the power between the internal components if you need more performance from the GPU or CPU.
Similarly, SmartShift Eco will help conserve battery life by using integrated graphics when Voyager is unplugged and switching back to discrete graphics when a charger is connected. There are several other features to improve performance when battery power is on or off, reduce input lag, and sharpen image details.
The included Elgato Stream Deck integration software suite helps optimize Voyager performance.
The iCue software of the peripherals has also come to Elgato. This app is used to change keyboard lights, assign keys and connect Corsair wireless mice, keyboards and headsets.
The Elgato Camera Hub allows control of the built-in 1080p webcam so brightness, saturation, exposure and white balance can be adjusted. There's also an infrared camera for face unlocking the laptop as well as a sliding shutter, to completely block the camera when privacy is needed.
Audio in and out is handled by speakers next to the keyboard powered by Dolby Atmos, providing a clear and pleasant sound. These speakers are suitable for online calls or casual listening. The built-in mics also deliver impressive results, so streamers will have good sound even without a separate microphone.
All of this makes for a gaming laptop that stands out in both looks and performance. It's an all-in-one portable solution for gamers and streamers. Plus, Voyager comes with a 1-year warranty and lifetime 24/7 technical support.