Update the list price and roll the latest Ford Ranger with all versions in the Vietnamese market.
Ford Ranger is a line of midsize pickup trucks of the car manufacturer Ford, USA. First born in 1983 in the US market and so far has passed through many generations around the world. In the Ford family, the Ranger is located between the heavy-duty (F-Series) and light-duty (Ford Courier) truck segments.
Known as the "king of pickups" in Vietnam when in the segment where no rival car model can surpass in sales, the Ford Ranger not only carries the American DNA with its powerful engine, but also has a stylish design. This car is also full of sport and bunker.
Competitors with Ford Ranger in Vietnam market can be mentioned: Mitsubishi Triton, Mazda BT-50, Toyota Hilux, Nissan Navara, Isuzu D-Max,...
The Ford Ranger 2022 currently distributed in Vietnam is the 3rd facelift version of the current generation (Ford Ranger T6, 2011-present). The car is imported CBU from Thailand with 10 exterior paint colors including: Saber Gold, White, Silver, Meteor Gray, Black, Sunset Red, Blue, Golden Gray, Red, and Blue Heaven.
On July 15, 2021, Ford Vietnam officially introduced assembled Ford Ranger to domestic consumers with 5 versions with the same suggested retail price as imported cars.

Refer to the list price and the latest updated Ford Ranger wheels in May 2022:
Version

List price




(million VND)

Temporarily calculated rolling price (million VND)

Hanoi

Ho Chi Minh City

Other Provinces/Cities

Ranger Wildtrak 2.0L 4x4 AT

937

1007

996

996

Ranger LTD 2.0L 4x4 AT

811

872

863

863

Ranger XLS 2.2L 4x2 AT

662

713

705

705

Ranger XLS 2.2 4x2 MT

642

691

683

683

Ford Ranger XL 2.2 4x4 MT

628

676

669

669
*Note: the above rolling price is for reference only, the price does not include promotions at the dealer (if any), the price may vary depending on the area and equipment of each vehicle.
Specifications of Ford Ranger 2022
Specifications/Versions

Wildtrak 2.0L AT 4x4

LTD 2.0L 4x4 AT

XLS 2.2L 4x2 AT

XLS 2.2L 4x2 MT

XL 2.2L 4x4 MT

Dimensions DxRxC (mm)

5362 x 1860 x 1830

Wheelbase (mm)

3220

Ground clearance (mm)

200

Fuel tank capacity (L)

80

rims

18-inch die-cast aluminum rims

16-inch die-cast aluminum alloy rims

16 inch steel rim

Tire size

265/60R18

255/70R16

Front/rear brake

Disc/Drums

Front suspension

Independent suspension, double wishbone, cylindrical springs and shock absorbers

Rear suspension

Tweezers with shock absorbers

Engine

Bi-Turbo Diesel 2.0L i4 TDCi

Turbo Diesel 2.0L

TDCi Turbo Diesel 2.2L

Turbo Diesel 2.2L i4 TDCi

Cylinder capacity

1996

2198

Maximum power (Ps/rpm)

213/3750

180/3500

160/3200

Torque (Nm/rpm)

500/1750-2000

420/1750-2500

385/1600-2500

Gear

10-speed automatic

6-speed automatic

6 level floor

Drive system

Two active bridges

An active bridge

Two active bridges

Rear differential lock

Have

Have

No

No

No

Cruise Control

Automatic

Have

Have

Have

No

Reverse camera

Have

Have

No

No

No

Parking assist sensor

Before and after

After

No

No

No

Side airbags

Have

No

No

No

No

Front Airbag

Have

Have

Have

Have

Have

Vertical curtain airbags on both sides of the ceiling

Have

No

No

No

No
Refer to the design of the Ford Ranger 2022
Exterior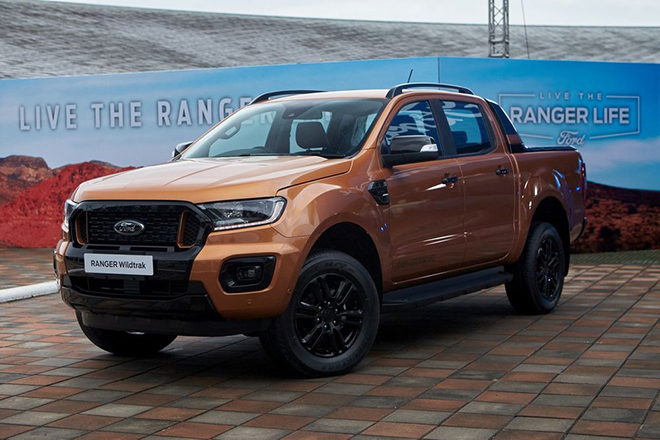 Ford Ranger 2022 owns a black grille, different from the gray color on the old version and has more 3D textures. On both sides of the steering wheel, there are 2 more quadrilaterals designed as air vents painted in orange to bring a sporty look to the pickup.
The upgraded version of Ranger 2022 has not changed much in the lighting system when it continues to be equipped with square Bi-LED balls, fog lights, .. However, the front lights have been painted dark instead of chrome. on the early 2020 version.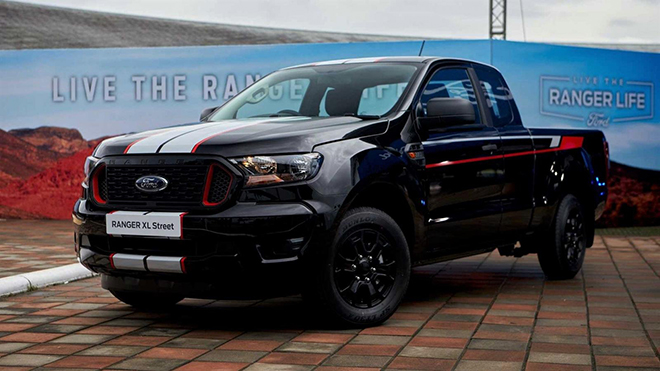 The latest details on the Ford Ranger 2022 can be mentioned are the 6-spoke dual-spoke glossy black wheels, the footstools are also completely black. The roof rack is also equipped with the same black color. The rear of the car is equipped with the same equipment as the old version with 3-compartment rear lights, integrated camera, reverse sensor.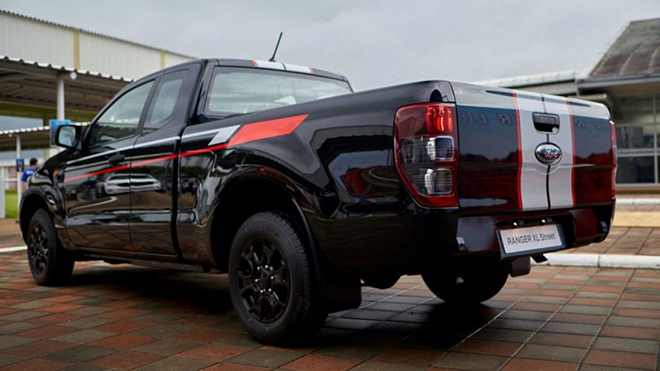 Interior
Ford Ranger 2022 is still equipped with the same basic amenities as its predecessor. Wildtrak high-end versions have a central screen, automatic air conditioning, synthetic leather + vinyl seats, 6-way electric driver's seat; Smart explosion. While Ranger XL, XLS have felt seats with mechanical adjustment, mechanical air conditioner, CD player or FM / AM radio and magnetic key.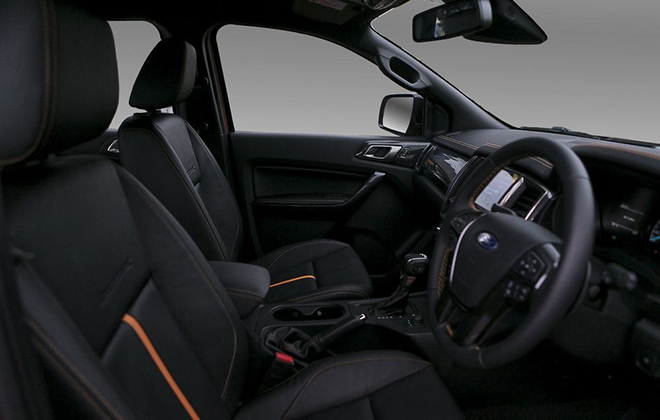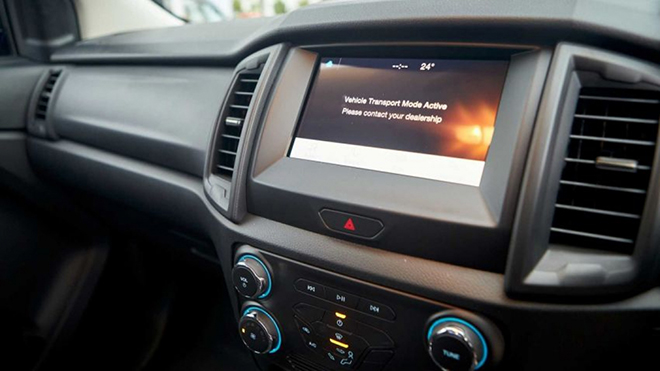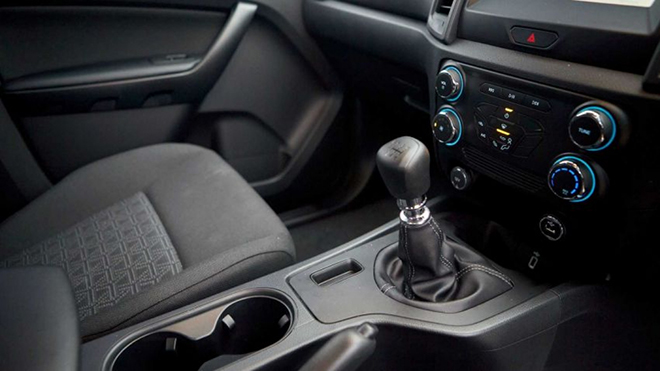 Engine
Ford Ranger 2022 has 3 engine options including: TDCi Turbo Diesel 2.2L i4 TDCi producing 160 horsepower and 3,200 Nm of torque. Meanwhile, Single Turbo Diesel 2.0L i4 TDCi engine helps the car reach 180 horsepower and 420 Nm of torque. Finally, the 2.0L i4 TDCi Bi Turbo Diesel engine helps to generate 213 horsepower and 500 Nm of torque.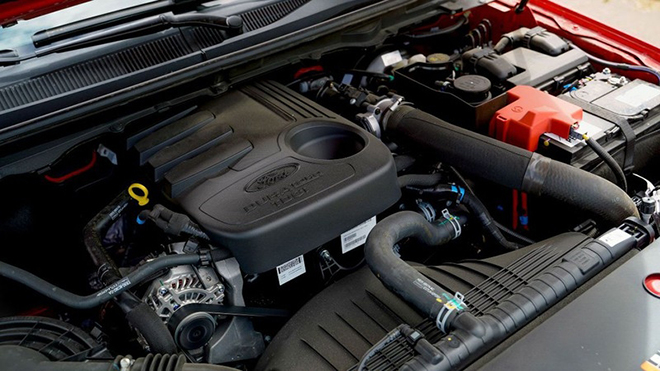 The Ford Ranger pickup has 4 versions using a 6-speed manual or automatic transmission, while the XLD and 2 Wildtrak versions are equipped with a 10-speed automatic transmission.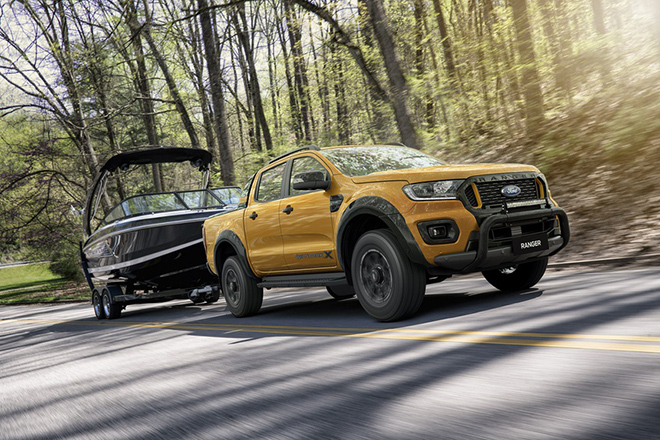 Safety equipment
Ford Ranger 2022 is equipped with safety features including: ABS, BA, rollover mitigation control, load control, front / rear parking sensors, 2-angle reversing camera, lane departure warning, throttle automatically integrates forward collision warning, slope departure, parallel parking assist technology, collision warning combined with emergency braking, ...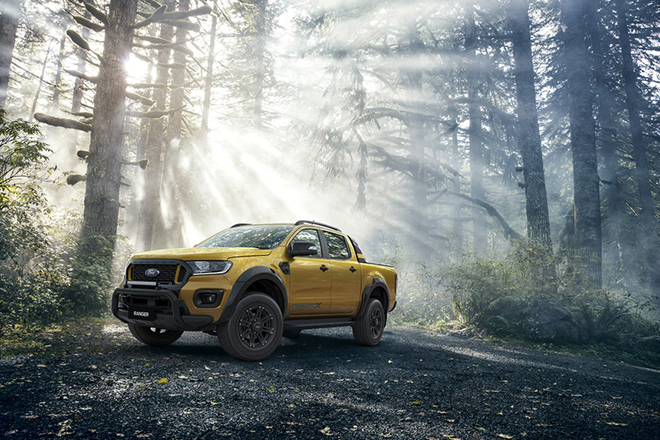 Review of Ford Ranger 2022
Advantages:
+ Strong design, bold pickup
+ Spacious cabin, quite luxurious interior
+ Full facilities: fast cooling automatic air conditioner, 6-speaker sound, SYNC system,...
+ Powerful, fuel-efficient engine.
Cons:
- Soundproofing doesn't really bring a good experience
- The rear seats have flat backrests and little inclination that makes occupants uncomfortable when traveling long distances.